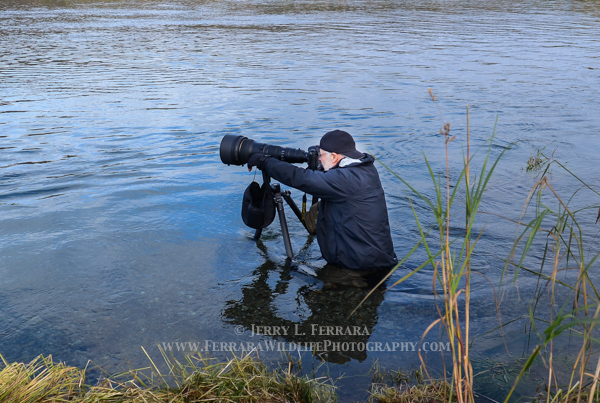 I have been a student of natural history for as long as I can remember [and that's a long time], and carried that interest into studying the life and physical sciences culminating in a Bachelor of Arts degree in Biology from LaVerne College and a Master of Science degree in Zoology from the University of Idaho. I am deeply moved by the awe-inspiring beauty of Idaho and its natural resources and currently live with my wife and business manager, Vicki, near the scenic town of Sandpoint. Early in my student career, I acquired my first 35mm slr camera and taught myself the basics of photography. During that time I discovered and devoured the contents of the Time Life Photography series. Ernst Haas was particularly inspiring. To me, his photo compositions of movement and motion were nothing less than visually lyrical.
I chose to go professional in wildlife image making in 1978 and my first published photo appeared in Field & Stream in 1979. My past picture-making efforts were approached from a photojournalistic viewpoint. I have also worked under contract with stock picture agencies in New York and Japan. My images have been used nationally and internationally. It is an honor to have had them licensed for use in such notable places as Audubon, BBC Wildlife, Canadian Geographic, GEO (German), International Wildlife, National Geographic, National Wildlife, Natural History, Tier, The World Wildlife Fund publications and Andy Warhol's "Endangered Species" silkscreen print series. My career has allowed, and continues to allow, me the privilege of recording and sharing the secret lives of wild creatures and the wild places they roam. My endeavors are dedicated to the presentation and preservation of all wildlife and their habitats. The power, humor, grace and nobility of the subjects never ceases to amaze me.
My vision today rests with producing fine art wildlife photographic prints from past work [the old film days] and current digital captures. Every aspect that goes into the production of my wildlife and nature fine art photography is handled by me from making the image in-camera to creating the final print. If something here captures your attention, draws an emotion from within you, or you think would make a nice gift for a special someone in your life, let me know.
VISITING SANDPOINT, IDAHO? Wildlife and nature photographic fine art prints from Ferrara Wildlife Photography may be viewed at our brick-and-mortar venue, Cedar Glen Gallery. Cedar Glen Gallery/Ferrara Wildlife Photography is a part of the community of Sandpoint, Idaho art galleries. The enterprise is located at 300 North First Avenue, Suite 1 in the heart of Sandpoint's downtown business district. Cedar Glen Gallery exclusively houses and offers the work of nature and wildlife photographer Jerry L. Ferrara for collection, home and business decor. Please feel free to call us with questions or for an appointment at 208.304.5393. Professional Member ASMP [American Society of Media Photographers]