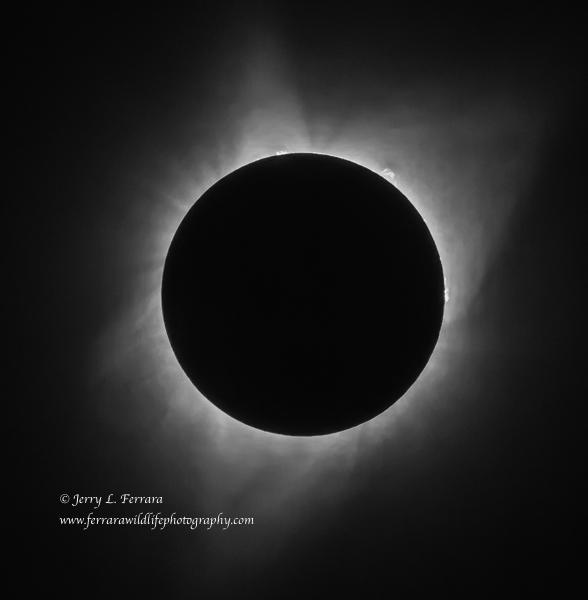 Solar Eclipse – On the Limb
On the Limb
Here's a black-and-white presentation of the total solar eclipse from 8-21-17. I made the recording near Mackay, Idaho. The capture depicts solar prominences emanating from the limb of the sun and extending into the star's corona. On 4-8-24 another 'apparent' complete 'covering' of Old Sol will take place and might be viewed [depending on the weather] from specific earthbound locations in the Continental U.S.[Mexico and Canada, too]. Check out NASA's website for the Great North American Eclipse and its path of totality. BE SURE to take proper SAFETY PRECAUTIONS if viewing/photographing.
~ Anecdote and solar eclipse capture, On the Limb © Jerry L. Ferrara
---
SHOT FROM THE FILE ~ Archive →
---
North Idaho wildlife photographer Jerry L. Ferrara shoots for Ferrara Wildlife Photography. Ferrara Wildlife Photography specializes in fine art nature and wildlife prints for home and office wall decor as well as for collection. The fine art prints created at Ferrara Wildlife Photography are of the highest quality, produced on acid free fine art papers using long lasting, fade resistant inks.
VISITING SANDPOINT, IDAHO? Ferrara Wildlife Photography may be viewed at our brick-and-mortar venue, Cedar Glen Gallery, 300 North First Avenue, Suite 1, a part of the community of Sandpoint Idaho art galleries. Please feel free to call us with any questions or for an appointment at 208.304.5393.
Professional Member ASMP [American Society of Media Photographers]