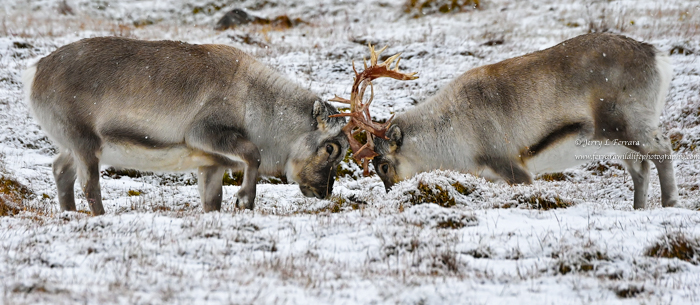 Svalbard Reindeer – A Gentle Sparring Moment
A Gentle Sparring Moment
Softly swirl did the airy flakes of snow as the amply-antlered bull Svalbard Reindeer casually approached a nearby member of the herd. What he instigated next was a gentle sparring moment. It was not a "battle royal" for social position. That had already come to fruition. Instead, the perpetrator simply was exerting and reinforcing his dominance.
~ Anecdote and Svalbard Reindeer capture, A Gentle Sparring Moment © Jerry L. Ferrara, Spitsbergen, Norway.
---
SHOT FROM THE FILE ~ Archive →
---
North Idaho wildlife photographer Jerry L. Ferrara shoots for Ferrara Wildlife Photography. Ferrara Wildlife Photography specializes in fine art nature and wildlife prints for home and office wall decor as well as for collection. The fine art prints created at Ferrara Wildlife Photography are of the highest quality, produced on acid free fine art papers using long lasting, fade resistant inks.
To view more images or order prints, see the menu bar above.
VISITING SANDPOINT, IDAHO? Ferrara Wildlife Photography may be viewed at our brick-and-mortar venue, Cedar Glen Gallery, 300 North First Avenue, Suite 1, a part of the community of Sandpoint Idaho art galleries. Please feel free to call us with any questions or for an appointment at 208.304.5393.
Professional Member ASMP [American Society of Media Photographers]