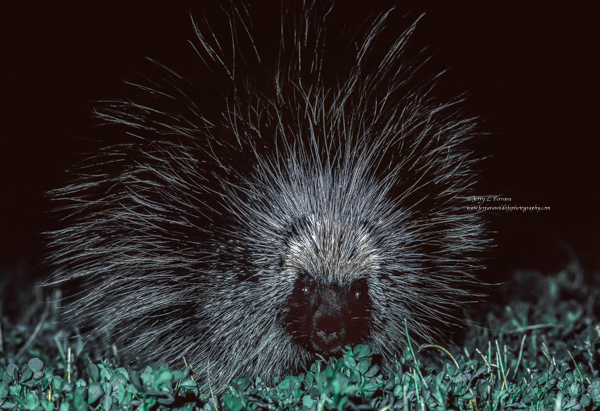 Porcupine – Darkness of the Night
Darkness of the Night
In the early 1990's, I traveled to Nevada's Walker River area to photograph Porcupine. Locating them in the daytime was easy as they peacefully slept high up in the surrounding cottonwoods. Knowing they are principally nocturnal, I returned in the evenings with flashlight, camera and flash. About a mile into the first evening's hike, and along a field of clover, I heard a sound that was totally unfamiliar coming from the trees lining the nearby river. Not just unknown was the voice from the dark, but it also held a tenor that was totally terrifying. Off went the flashlight as I listened to the rise and fall of mysterious and hair-raising banshee wails, moans and shrieks in the darkness of the night.
After a few moments of intolerable silence the 'fiend' showed itself … a 'love-sick' Porcupine [it was Porcupine breeding season] as it trundled across my path on its way to dine.
Here, on another occasion, I caught a juvenile in the act of feasting.
~ Anecdote and Porcupine capture, Darkness of the Night © Jerry L. Ferrara
---
SHOT FROM THE FILE ~ Archive →
---
North Idaho wildlife photographer Jerry L. Ferrara shoots for Ferrara Wildlife Photography. Ferrara Wildlife Photography specializes in fine art nature and wildlife prints for home and office wall decor as well as for collection. The fine art prints created at Ferrara Wildlife Photography are of the highest quality, produced on acid free fine art papers using long lasting, fade resistant inks.
To view more images or order prints, see the menu bar above.
VISITING SANDPOINT, IDAHO? Ferrara Wildlife Photography may be viewed at our brick-and-mortar venue, Cedar Glen Gallery, 300 North First Avenue, Suite 1, a part of the community of Sandpoint Idaho art galleries. Please feel free to call us with any questions or for an appointment at 208.304.5393.
Professional Member ASMP [American Society of Media Photographers]